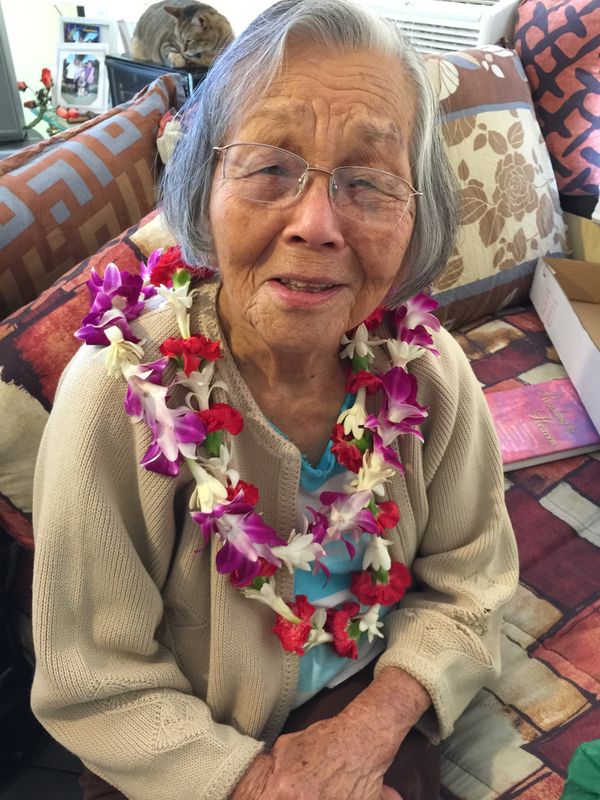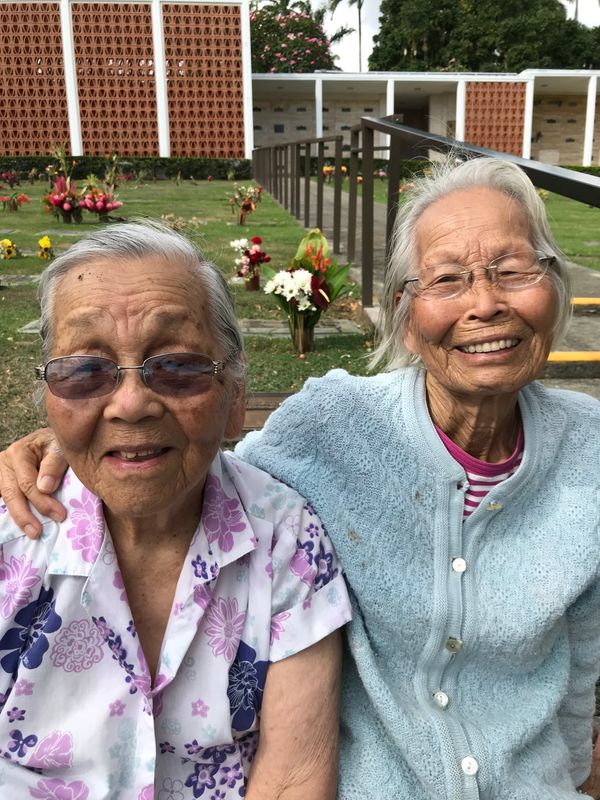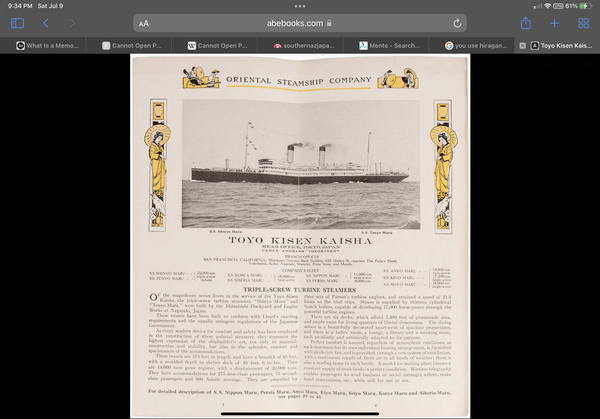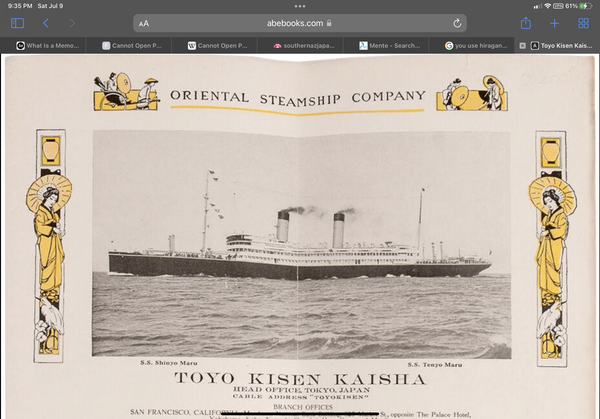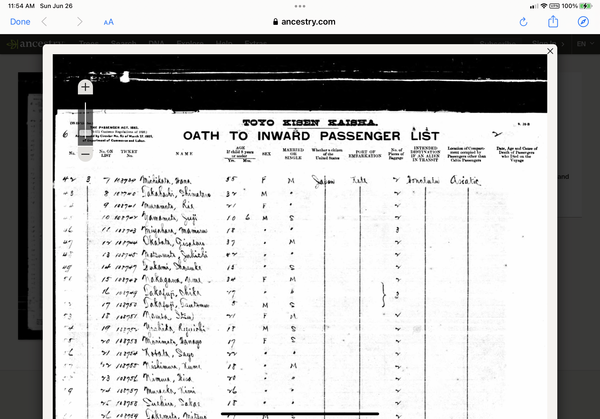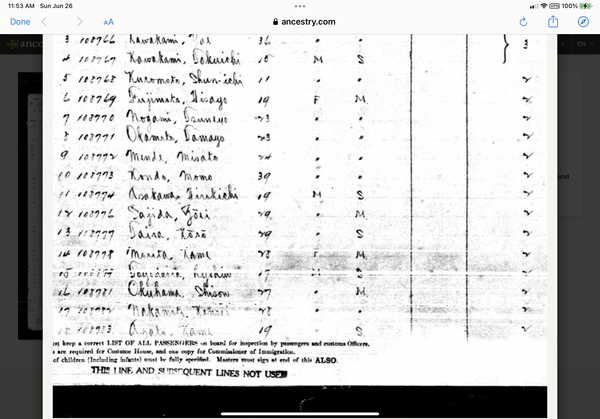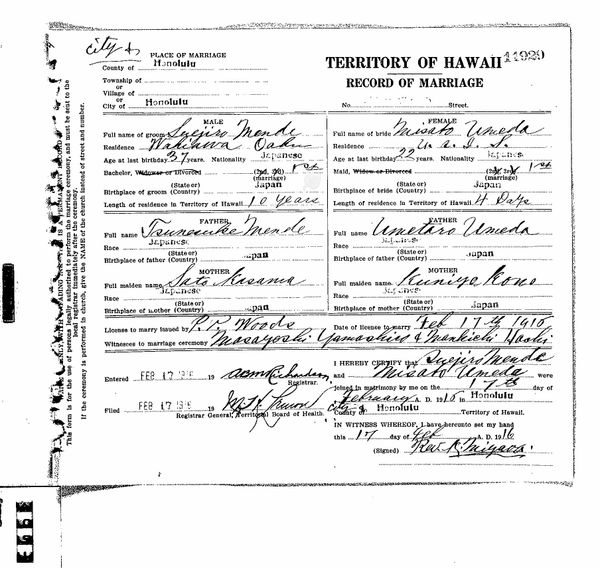 Obituary & Biography: Betty Mieko Mente Toyama (nisei) 1924 - 2021
When planning my mom Betty Mieko Mente Toyama's Memorial/Life Celebration and writing her obituary, I could not separate her from her parents, especially her mother Misato Umeda.
Her parents father Suejiro Mente and mother Misato Umeda were issei Hawaii plantation workers from Hiroshima. They were married through arranged marriage where Suejiro's family in Hiroshima found a bride for him. This was usually done thru a matchmaker. He was sent a photo of his bride Misato. And his bride was given a photo that he had sent to Japan (or that his family already had.) It was probably an old photo taken when he was 10+ years younger. Even though they were far apart, with the matchmaker's help, and the agreement of their two families, they were married in Japan prior to his bride Misato leaving Japan to travel to him in Hawaii. The US Territorial law at that time of 1916, had already stopped the immgration of any non-related foreigners. It only allowed the immigration entry of family members. That's the reason Misato was married prior to leaving. She was called a "picture bride." Betty's parents met for the first time in 1916 when the ship carrying Misato arrived at Honolulu port. For their marriage to be legal in the US Territory of Hawaii, they were married again along with other brides in Honolulu 4 days after Misato's arrival on February 17, 1916. Suejiro had been in Hawaii for 10 years, (since 1906). At the time of marriage, groom Suejiro was age 37, and his bride Misato was age 22 as stated on the record of marriage or age 24 as stated on the ship's registery.
Oriental steamship company "Toyo Kisen Kaisha" she traveled either aboard the ship "S.S. Shinyo Maru" or "S.S. Tenyo Maru." About 800 "Asiatic" (Asian) emigrants were usually placed near the rudder, in a section of inferior accommodations for passengers paying the lowest fares.
My mom Mieko (English name Betty) always told me, her youngest son, that the Japanese way is best. And she would always talk about her mother Misato Umeda… about how hard and long she worked each day to provide for her family. Misato instilled into her oldest daughter Mieko, the Japanese way called gaman (bear and endure) or as we sansei know it as "gambatte kudasai!"
To provide for their family, my grandmother and my mom (oldest daughter would work together early in the mornings pushing a heavy green cart full of pastries, eggs, and milk up and down the hills of Kaimuki, Kapahulu and inside Diamond Head to sell those items and earn a little money. Somehow my grand parents saved up enough money to have a good home and opportunities for a good education for their large family of children.
My mom Betty's childhood experiences of working along side her mother Misato, helped her develop into a good, loving, compassionate, moral, virtuous, hard working wife and mother.
Mieko Mente (birth name) was born May 5, 1924 in Honolulu, Hawaii. Betty grew up as the oldest daughter of a large family in the 7th Avenue, Kaimuki and Winam, Kapahulu areas of Honolulu, Hawaii. As oldest daughter in a large family, her mother Misato relied heavily on Mieko to help. When her mom needed help pushing a heavy cart to sell pastries during weekday mornings to earn money for the family, Mieko quit high school to stay at home to help. She sacrificed for the welfare of her family.
She loved athletics, and while she loved to play volleyball. When I was in 4th grade, I remember playing catch as pitcher and my mom as catcher. No matter how hard and fast I threw the ball, she would catch it. She really was athletic. She loved to go walking for exercise too. And she loved watch American football on TV, always rooting for the losing team!
When Mieko was young, her mother Misato, sent her to a sewing school to learn sewing. In the plantations thru the early 1960s, women were expected to learn how to make and mend their own clothes and of their husbands and children. As a little boy, I recall my mom Betty, taking me with her to shop for material. She would examine the fabric carefully for it's texture and design pattern, then select and buy the right ones and right amount of yards for the clothes she planned to make. She had told that long ago women used a singer brand sewing machine. It had a pedal to operate it.
In her early 20s, she married my father Thomas T. Toyama and lived in the Halawa and then Ewa Beach area for a number of years. During those years she had her first son, originally named Valentine by my father. But my mother had his name shortened to Val. She did not his peers to tease him in class. Either my father or my mother had told me long ago, that my father had named my brother Valentine, because my father thought that teasing and resulting verbal and physical conflict would help mold him into a strong respected man. My mother would always say, Val is the sensitive one.
After she her her daughter JoAnn who she loved dearly. My mother expected a lot from her daughter as her mother had from her. She was to be her personal family helper, doing everything necessary to help the family. She tried to train as her mother had trained her. Mom Betty, was discovering that the times were changing with each generation. That what each generation valued was changing. Just as the issei Japanese moral, cultural ways and Buddhist/Shinto religious norms were slowly giving way to her nisei generation values, they were now changing again in her children, the sansei generation. She loved and defended and stood by her daughter JoAnn against Thomas senior, father of JoAnn and Betty's husband and his shocking harsh criticism. I think, this was all in the stars. When grand daughter Angela Nishida was born, the whole family was very excited, celebratory and extremely happy, including new grandfather Thomas senior and especially her new grandmother Betty. Her grand daughter Angie brought so much love and joy into the family. Betty loved and adored Angie her with all heart and did all she could to care for her. At times, too much, in being a doting helicopter grandma of older generation ways. But Betty had her grand child's priority in mind and had nothing but good intensions about her care and upbringing!
After, she and her husband relocated with my brother and sister to Okinawa from 1957 to 1966. I was born in Okinawa.
When Betty's husband was transferred to work for US military in Vietnam, the entire family returned to Honolulu and lived in Moanalua Gardens community for many years. Betty really made a good home there. 
Because she was not a high school graduate, she only qualified for low paying jobs. So, she got a job working for ABC bakery first in their Kalihi location, then Waipahu and then at a bakery near Honolulu airport. She would sometimes walk from her Moanalua home to that job, when her car was in need of repair.
She also worked at Gibson department store in Moanalua. She liked working there and her co-workers loved her. She later returned to work at the ABC bakery location inside the front entrance of Holiday Mart, (now called Don Quixote) on Kaheka Street. She made a good home at Moanalua. Loved her yard and would spend hours tending to her fruit trees. She would hold onto a rope while going up and down the hill in our backyard to tend to her plants. I would find her standing with a rope tied around her waist while she was using a full size pick to dig a hole to plant her plants. She was amazing!
Betty Toyama lived at home with her youngest son Thomas Junior in Florida for the last 11 years of her life. At age 97 1/2, she passed away of Covid virus complications on October 23, 2021 at Saint Anthony's Hospital in Lauderdale Lakes, Florida. She is survived by her sister Charlotte Yutaka Toshie Mente Uyeunten, daughter JoAnn Timmons, son Thomas Toyama, grand daughter Angela Yamamoto, and great grandson Ronny Transfiguracion.