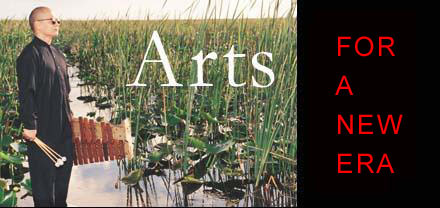 選ばれた
5
vibraphone year study
intense artistic preparation:
to achieve highest artistic vibraphone performance level

preparation for international classical vibraphone and jazz vibraphone competitions
entrance auditions into university and conservatory honors, bachelors, master and doctorate programs
classical and jazz vibraphone pieces on conservatory/university music school recitals.
develop your "unique vibe sound"
I will choose 5 percussionists with a minimum of 2 years of vibraphone experience wanting to engage in a minimum of one year training to achieve their highest artistic level.


Background & Development:

I was born in and raised in early life in Okinawa, Japan, the birthplace of Okinawan martial arts of which my father was one of the founders of a style. My father trained me during my childhood in Okinawa in his art, of which are unknown today. This is NOT the Okinawan hard martial arts style!

I would also attend my mother's lessons of "ikebana," the Japanese art of flower arranging with her master teacher, observing the ways of placing plants, stems, leaves and flowers in space.

I also studied shakuhachi from the great master Yoshio Kurahashi.
Additionally, my professional experience includes established jazz musicians as Ira Sullivan, Mongo Santamaria, Paquito D'Rivera, etc.
I not only know vibraphone pedagogy but as a composer/arranger I also know the musicality and function of vibraphone within an orchestral, big band, to small ensemble to feature and solo settings.
From the study of Japanese art forms and from my jazz experiences, I have formed my own "vibraphone way".


Documentation:

Listen to the musicality in audio of my 3 performances on my Jazz EPK page. They were all recorded on the Musser silver bar pro-vibe model M-55.  "All Blues" (1st tune) and "Waikiki Sunset (3rd tune)" were recorded live in front of an audience. "America" (2nd tune) was recorded on the first take in the studio. Listen carefully through a good set of headphones or monitor speakers for the fluidity of sound and motion.

Ask 3 professionals that have seen me perform live. Established percussionist/composer Ney Rosauro; Professor Jose Alicea, the Chairman of the Percussion Department at the Conservatory of Music in Puerto Rico; Professor Judy Moonert, Percussion department Chairman at Western Michigan University.


In these last years of my life:

Dedicated to pass on the teachings I've developed. I will select 5 students that are meet my requirements, really devoting their lives to classical and or jazz vibraphone, who really want to develop to the grand master artist level.

If you want to just take a few lessons or just want to try it out, then please find another teacher! Everything I teach is based on focused hours of implementation. You cannot learn it in a few lessons.
If you are ready, devoted, in love with the vibraphone sound, and have the open mind, with the discipline, patience and tolerance to practice long intensely focused hours daily, contact me to sign up for the audition process thru the "Email Us" form at the bottom of this page.


Audition process requirements:
email a formal letter of introduction to me at tom@tomtoyama.com (Must be in English.)

pass a video internet vibe performance audition.
submit a one page written essay explaining why you love the vibraphone and why you would want to study with me. Must be translated into English.
pass an "in person audition and interview/evaluation" process. 
Other requirements/considerations/rules:
follow a respectful/disciplined traditional Japanese master-student relationship.
For each lesson, if you don't speak in English, I will carefully demonstrate all the techniques. But you will be required to bring a electronic translator or mobile phone of tablet with voice recognition translator app. So that we can communicate with each other quickly and easily.
Lessons are NOT allowed to be videoed or audio recorded. Lesson are customized for your individual needs and development, not someone else. Not willing to let my instruction and techniques to be posted on the internet and be judged thru video or audio recordings. It will lead to misinformation and faulty judgement.
Each lesson 2 weeks apart! This gives you the time to learn each lesson well.
Requires daily 90 minutes minimum practice. If you do not adhere to the practice schedule, after a few lessons, I will realize that you are not practicing for the required time. And you will not improve. I will NOT refund your total fees paid! If you cannot meet the requirements of practice, find another teacher.
If you miss your lesson because of a real emergency, you'll retain your credit for that missed lesson. But you will need official documentation like a note from your doctor or funeral director, etc.
If you can't afford my lesson costs, there are other teachers that are great vibraphone players/teachers that will teach you. Contact them.
For practice, you must already own or have access to a standard wide-bar quality vibraphone (3 octaves, 3 - 1/2 octaves, or 4 octaves). The vibraphone you use should produce a quality/intune sound.
Any color bars, but the quality of the bar and it's sound should be equal to the Musser Pro-Vibe M-55 or better.
Your vibraphone pedal system must work well and dampen the entire vibraphone bar range evenly.
One set of 4 matching high quality (medium soft) vibraphone mallets.
Must be able to transport yourself (drive, bus, train transportation or fly) to Fort Lauderdale, Florida for in person lessons. I will not teach by video chat on the internet. It's impossible! Lessons are intense and usually 90 minutes to 2 hours long.
I have the vibraphones already here for the lesson.
Up until now, I have only taught the beginning level to a few students. But it has influenced their playing in small ways. For real development, it will take about a year of focused practice to feel and know you are playing better.
After careful consideration, I will choose the 5 students I feel will totally devote themselves to daily practice and learn each lesson well.
If you are chosen, you will learn a unique and artistic system that is precious. It will separate you from other vibraphone performers. Use the below "Custom Contact form" with your email address.



富山
Performances/Master Classes
For live performances and master classes, please contact Tom Toyama thru the "Email Us" contact form at the bottom of this page.

NOTE: Master Classes and lessons are given in live settings (in person) only. Teaching is not given online/internet!
7-13-09 Keep breath flowing, smooth and relaxed during your practice/performance. Let me know how this has influenced tour playing. Aloha: Tom Toyama