FOR MEMORIAL, LIFE CELEBRATION & BURIAL: BETTY MIEKO MENTE TOYAMA
For Memorial/LifeCelebration for Betty Mieko Mente Toyama
Click the above link: "Memorial/LifeCelebration for Betty Mieko Mente Toyama"
On the next page, keep scrolling all the way down until you find the information on your participation or performance.
There you'll find information on the date, times, schedule, and order participation or performance.
For dance senseis, the tunes are free to download.
Hiroshima Hula dancers there are two versions:
For performance, use this slower speed version (75% of 100%)
because the original 100% speed is too fast.
Thanks.
Or you can also do the following:
You are now on the Introduction Page
Scroll to the bottom.
Click the blue "Enter Site" button.
On the next page, click on the link: "Betty Mieko Mente Toyama Memorial & Life Celebration"
(If your using an iPhone, click the menu button on the top left, scroll down the menu, at the bottom, click on the link Betty Mieko Mente Toyama Memorial & Life Celebration)
On the next page, keep scrolling down to find information pertaining to your participation or performance:
There you'll find information on the date, times, schedule, and order appearance.
For dancer senseis, the tunes for free download.
Hiroshima Hula dancers there are two versions:
For performance, use this slower speed version (75% of 100%)
because the original 100% speed is too fast.
Thanks.
The Late Great Multi-Instrumentalist & Composer IRA SULLIVAN: My Mentor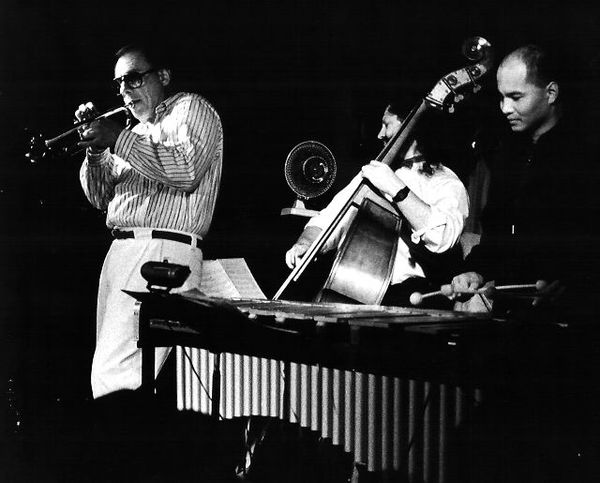 (Ira Sullivan my mentor passed away recently. Wanted to write this now to express my thoughts and feelings. It's not finished. I will do edits/updates in the days that follow.)
Great legendary jazz multi-instrumentalist & composer Ira Sullivan passed away on September 21, 2020. He was "a musician's musician!" A performing artist of the highest creativity who pushed the boundaries of jazz and improvisation! Truly unique! Playing in his band, I was exposed to his way of experiencing music at its intense creative edge! Ira lived the real life jazz. And I was very fortunate to have played in his band that he called "The Art of Improvisation!""Ira Sullivan was an awesome good man, a great and unique jazz artist, and an inspiration and influence upon me and my playing and to many other musicians. I keenly remember those intense, but precious soaring and floating moments in the creative environment he created on stage."
Years ago, while playing a gig in South Miami at the Bakehouse with vocalist Sandy Patton (of Lionel Hampton), Codaryl "Cody" Moffett, a great NYC drummer came up to me and said Ira Sullivan was playing weekend nights at Penguin's jazz club in Fort lauderdale .... and that I should go sit-in. Being a young jazz musician with limited experience, I was afraid, but mustered enough courage to go, introduce myself and ask Ira if I could sit-in. He was nice. During a break, he moved musicians and their instruments aside to make room for my vibes on the stage. And positioned me right next to him at stage front. Felt nervous! He let me play on a couple of tunes at the end of the night. And after the gig, got to hang out with him and the band. We talked into the wee hours of the morning, mostly about the jazz art form. He did not indicate that he liked my playing. But one night after sitting in several evenings in a row, he asked me to join his band. I was elated. I had just completed a Masters in Jazz Performance at U. Miami ..... was just an inexperienced "wanna be" jazz musician. And now I was performing with one of the most awesome and unique jazz musician in the world!
But it was years later that I discovered how awesome Ira Sullivan truly was.
Ira could play any tune in any key by ear. So, whatever musicians would throw at him (up tempo, different key and reharmonization, original tune), he would meet and exceed their challenge and blow them off stage! Even established/famous musicians were afraid to get on stage with him, because they knew that they would be challenged and be forced into musical territories that were unfamiliar. Ira had a way of doing this ...... of putting you to the test! His test! ... Which was always pushing the creative envelope to outside of its boundaries. What made it difficult for most musicians including famous musicians sitting-in, is that Ira almost never announced the name of the tune he would play or key or form. To start a tune, he would just play, and you just had to listen carefully. In his space and time, he would lead the band from chaos into moments of beauty. Sometimes these precious moments would be brief and sometimes it would last a few minutes. In comparison to other band leaders/players, Ira made playing: a field of intense challenge, survival, and spontaneous learning with rare moments of accomplishment afterwards. But most of the time, my butt was getting kicked on each tune. I knew I had to practice everything including ear training and learning more tunes in different keys. I did.
Ira had several jazz bands that he lead. Each was from a different time period and with different musicians. He called the band I was in during the late 1980s and early 1990s, "The Art of Improvisation." That was a true statement. That band had all young energetic creative personnel:
Multi-instrumentalist Ira Sullivan, pianist Ron Perillo (now in Chicago), bassist Don Miller, and NYC drummer Cody Moffet. I was lucky to be added as the last member. Most of the tunes we would play,.......the band members and I never knew. Standing on stage right next to Ira! Wow! What a SONIC EXPERIENCE! Ira would close his eyes and play such powerful sustained musical statements, interspersed with an array of well placed faster/shorter notes that would bridge and build up the interactive band intensity and lead to next powerful melodic statements. Being by his side and listening to his playing and how the band reacted, stretched my listening/hearing skills and forced my performance into a higher level. I had to, to survive! I would ask myself: What tune are we playing? The key? the chord changes? And the form? On every performance in that band, I remember telling myself, "Tom just listen! Listen! Listen!" I was "always on edge," never knowing when he would turn and point his horn cuing me to solo. And it was usually the first or second solo! But I was still trying to figure out the changes and the form! 
He pushed his band members to into the unknown territory of risk where the essence of the creative jazz art form lives. It's fluid, with bumps, always changing, a creative and interactive sound environment. We always played on edge with full blown intensity whether it was hard driving but sometimes soft and melancholy. It was absolutely mind blowing and awakening! Nothing could have prepared me for that! It was always an intense musical challenge, roller coaster ride, and totally encompassing adventure to play in his band. I recall him saying to me after a gig:
"Tommy, we would play all night, into the early morning hours. That's how it was." He was telling me about his youth and learning to play jazz in the 1950s Chicago music scene. And trying to tell me that is how he developed his high musical ability. And that's what I needed to do. Play all the time! Do a lot at gigs and jam afterwards until sunrise! (Then hang out and catch some breakfast at a nearby "Denny's" restaurant. LOL!)
Playing all the time was how he developed into one of the world's most greatest jazz musicians. The world will never know and hear another Ira Sullivan. He was truly unique with his ability to immediately hear and understand harmony and create tunes spontaneously and play it on a variety of instruments (trumpet, tenor sax and alto-flute). And as a band leader, he forced his players into exploring spontaneous creative risk.
My message to Ira in Heaven: Ira, at about 1:00PM Saturday, September 26, 2020,  I felt your presence. That lead me check on you on the internet. And that is how I found out you passed away. I'm sad, miss you, your talks and incredible playing. But by your presence, talks and playing, you've taught me the essence of your musical knowledge, talent and and artistry. I'm a better person and musician because of you, Ira Sullivan. I will never forget you, your teachings and your tremendous musical gift from God!
Now, I understand why, each gig's last tune would always be "Amazing Grace." Thru your soft melancholy alto-flute performance you spread "God's Grace" upon everyone who performed with you and listened. I feel very fortunate to have known you and cherish all the times we had together playing, talking and listening to your memorable and insightful words like, "Burn at a double p" meaning at a soft volume level.... when we would talk about how we could play/float on fast tempo bebop whenever the late Chicago bebop drummer Guy Viveros was playing.
"Ira Sullivan, you are my mentor and hero! Thank you for taking the time to teach me and for letting me play on stage with you. I'll always cherish and remember you and your wide and wondrous sonic palette, driving emotion, artistic creativity and humanity. God Bless You! When you're not performing in Heaven and got a free moment, please listen to "Chanson for Ira." I first played for you on piano long ago while we were at the Davie Boulevard mansion by the river and bridge. You took out your soprano sax and figured it out by ear while I played it a few times for you. I apologize for not letting you hear the big band arrangement. Please forgive me. Hope you will be able to listen to it from Heaven.
Your vibraphonist and friend: Tom Toyama
P.S. One day, when it is my time, I hope that I will get a chance to perform with you in Heaven.
*** Please Note: The tune "Chanson For Ira" is free to play. To download it, you would need to pay the 99 cents.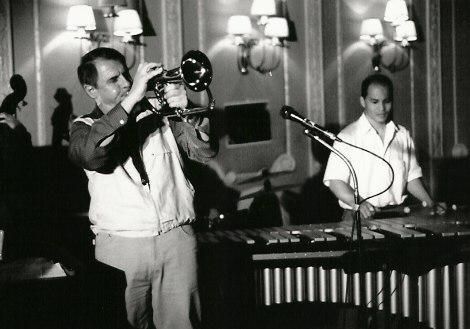 Rest in Peace
Distinguished Music Professor David N. Baker, the Chairman of the Jazz Department at Indiana University, Bloomington, Indiana.
Died March 26, 2016. 

Very sorry to hear of Dave Baker's passing.

Professor Baker, if you can hear me from Heaven, thanks very very much for taking the time to give me a solid jazz foundation upon which to build.
I remember you as if it were yesterday, my first jazz teacher, the one who took time out of your busy day to give me private lessons .... wheeling my vibraphone into your little office and you teaching me those really hip Perfect 4th patterns and other licks/vocabulary that I still currently use. Because of you, I participated and received a Bachelor of Music in IU's jazz studies program, got to play vibes and learn in Indiana University's number one jazz big band for 3 years, got my masters in jazz performance from U. of Miami on a full graduate assistantship, had other professional opportunities/experiences later with Ira Sullivan, Mongo Santamaria, Paquito D'Rivera and others. And received awards, performed on television and in jazz festivals in the USA and abroad. And thanks for all your wonderful letters of recommendations and all your encouragement and support all these past years. You played a crucial part in my development as a jazz musician. Without you it would not have happened!

With sorrow of your passing, wonderful precious memories of you and your teachings, and with my most grateful appreciation: Thank you very much from my heart!
Tom Toyama
tom toyama: vibist & composer